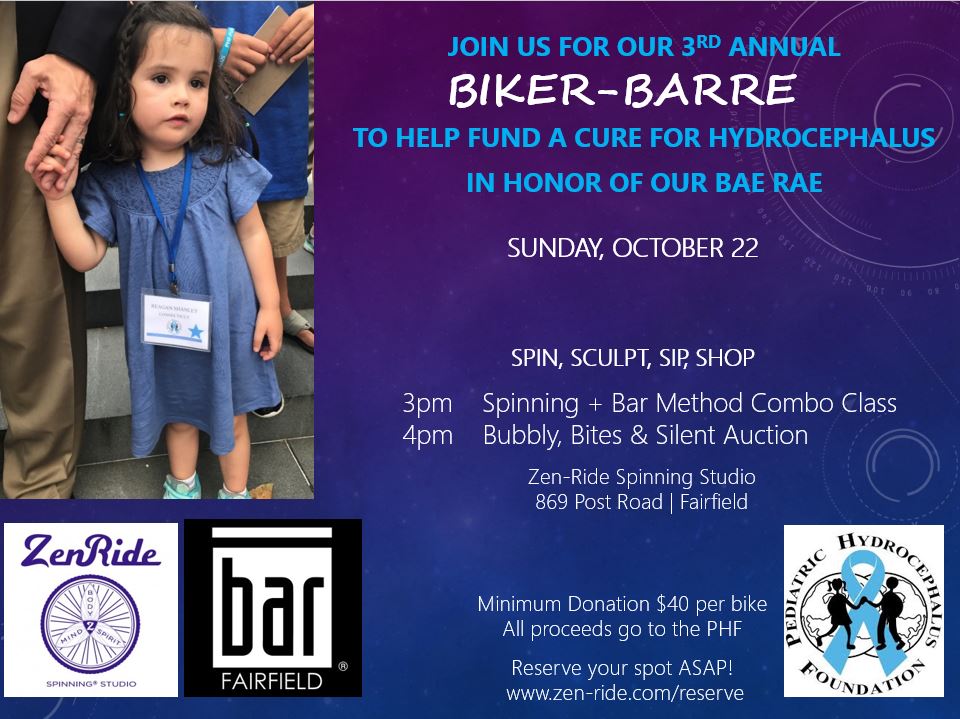 Join us for the 3rd annual Biker-Barre event! Spin, Sculpt, then enjoy some bubbly and bites while you check out our fabulous silent auction items. 100% of the proceeds will go directly to the PHF. Join us as we partner with the PHF as well as Reagan ("Rae Rae"), a little girl living with the condition who inspires her parents to raise awareness and money for the cause.
For more information and to register for the event, please go to
www.zen-ride.com/reserve
If you can't make it to the event, you can make a tax-deductible donation below.
Hydrocephalus is a lifelong condition, affecting over one million Americans from newborns to seniors. It is estimated that 1 out of every 500 babies are born with hydrocephalus. It is a condition in which there is excessive accumulation of cerebrospinal fluid (CSF) in the brain which, if left untreated, can lead to brain damage, a loss in mental and physical abilities, and even death.
There is currently no known way to prevent or cure hydrocephalus and the only treatment option today requires brain surgery.
The Pediatric Hydrocephalus Foundation (PHF) raises money for and works with the medical community in searching for a cure and additional treatment options for those with Hydrocephalus. The mission of the Pediatric Hydrocephalus Foundation (PHF) is to educate the community by raising the level of awareness about this brain condition. The PHF will also provide support to the families, friends and children who are diagnosed with Hydrocephalus.
The PHF, Inc. is a non-profit 501 (c) (3) charitable organization and as such, all contributions are tax deductible to the extent allowed by law.